How to Install a Car Battery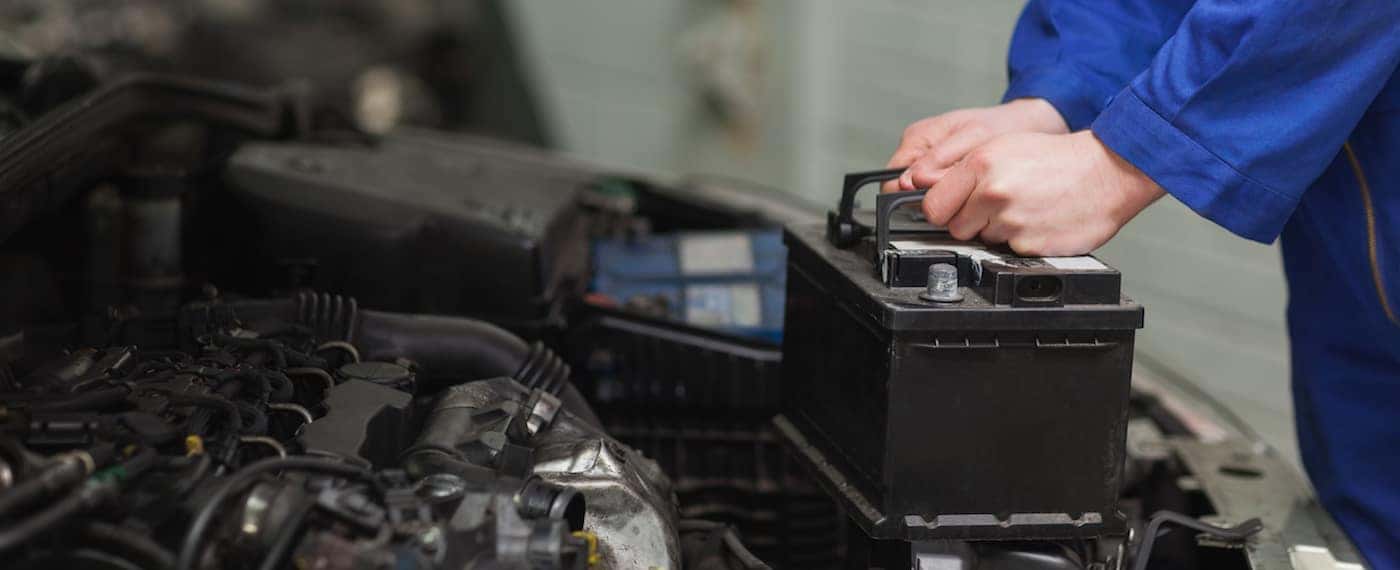 Installing a car battery is a pretty simple process. Anyone can learn to do it. However, if you'd rather have an expert do it, the friendly Service Team at Douglass Nissan of Waco of Waco is here to help. Fortunately, we're conveniently located near Woodway, so there's no need for the "car battery installation near me" Google searches. But, for now, enjoy our guide on how to install a car battery below.
How to Install a Car Battery in 12 Steps
Special tools are not required to replace your car battery. You will need wrench or two, a wire brush, and maybe a screwdriver, depending on how your battery is secured to your car. Here's how to install a car battery:
Turn the engine off and make sure the car is in park. If the car is not parked on a level area, engage the parking brake.
Raise the hood and find the battery. The battery is normally towards the front along either side of the engine compartment.
Always disconnect the negative (black) cable first. This is to ensure you don't inadvertently short out the system. When you connect the new battery, the order of cables will be reversed. Note: Be careful never to touch your wrench to both the positive and negative terminals at the same time, so as to avoid electric shock.
Disconnect the positive (red) cable.
Unscrew the clip or bracket holding the battery into place.
Remove the old battery.
Clean the battery connectors with a wire brush to remove corrosion.
Place the new battery in the engine compartment. Reattach the clip or bracket the holds the battery in place.
Always connect the positive (red) cable first. If you were to accidentally touch the wrench to both the positive terminal and the car frame while the negative terminal was connected, you could short out the system. This is why it's important to only work on the positive terminal while the negative is disconnected.
Connect the negative (black) cable.
Start the car. If your car starts and runs smoothly, you're good to go!
Recycle your old battery. Most auto parts shops will do this for you.
Car Battery Installation Near You
You don't need to drive all over town to find car battery installation near you. We're conveniently located near Hewitt.
Check Out the Other Tips on Our Website
If you found this guide to be useful, check out our other service tips and tricks. Our service team is here to help. We're just a short drive away from McGregor. If you need assistance or have any questions, feel free to contact us today!
Whether you need a car battery or Nissan Altima wheels, we have you covered.
More From Douglass Nissan of Waco
The 2022 Nissan Altima is a vehicle that gives you plenty of performance and tech to make your drive a treasure. Which of the 2022 Nissan Altima trim levels is the one that's right for you? If you're looking for the answer to "How much does the Nissan Altima cost?" we've got it broken…

If you want your midsize truck to really get it done in Woodway, a vehicle that should be on your list is the 2022 Nissan Frontier. The 2022 Nissan Frontier towing capacity tops out at an impressive 6,720 pounds when properly equipped, perfect for those who want to make quick work of both work…

The Nissan Frontier has been a reliable midsize truck blazing trails in Woodway for years. However, for model year 2022, it's received a significant update, the first in roughly 15 years. The 2022 Nissan Frontier vs. the 2021 Frontier: what's different? If you're choosing between the 2022 Nissan Frontier or the 2021 Frontier, you'll…