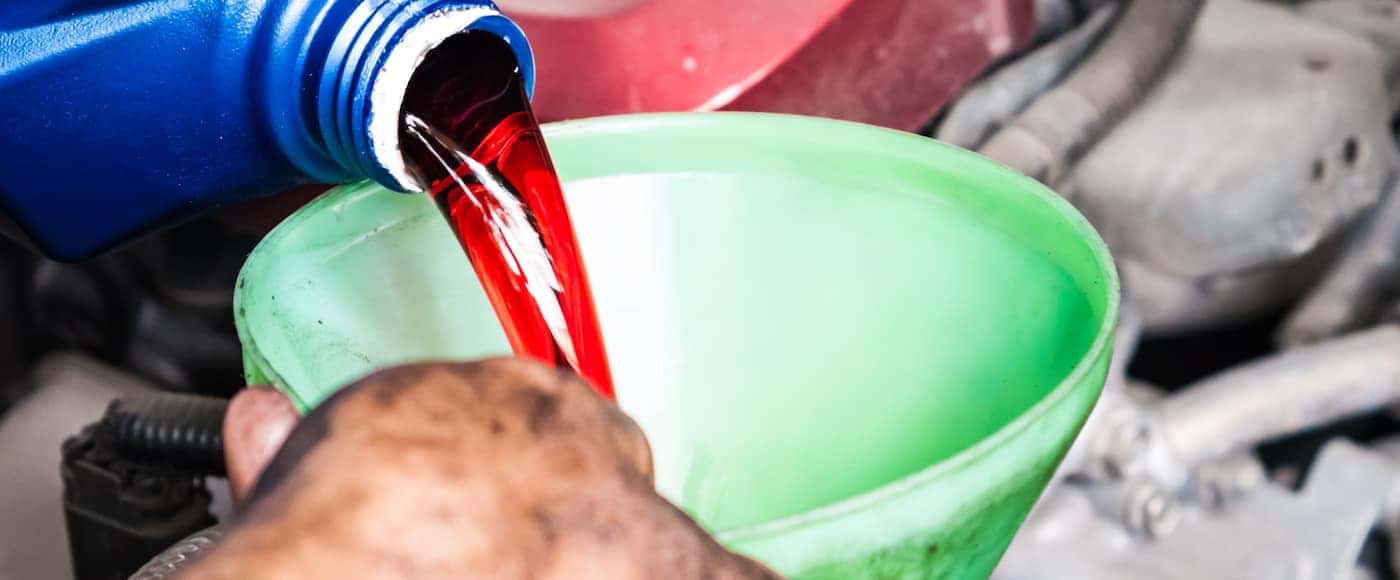 ---
Regularly checking your transmission fluid is key to maintaining your vehicle. It's a simple way to keep your transmission working smoothly, and know when to take the vehicle in for routine service. Staying ahead of any transmission issues will save you time and money, so it's a good idea to learn not only how to check transmission fluid levels, but also where the transmission is, and how to top it up if necessary. Read on to learn the basics of how to check fluid levels on your Nissan Altima transmission in this guide from Douglass Nissan of Waco, and then learn more about car care, like how to change your cabin air filter or how to install a car battery today!
---
Checking Transmission Fluid: Step-by-Step
If you have a newer vehicle, chances are you won't be able to access the transmission manually. If that's the case, you'll probably need to have fluid checks and changes performed by a professional at a service center. You can go to any Hewitt auto service shop, but keep in mind that there are benefits to bringing your Nissan Rogue or Sentra to a dealership like Douglass Nissan of Waco, where our mechanics specialize in servicing Nissan vehicles and use only genuine OEM parts.
If your car doesn't have a sealed transmission, you can perform the transmission fluid check yourself. Follow these steps to find out if you need transmission service:

Run the engine for several minutes to allow it time to warm up. Make sure the car is in park, and then open the hood.

Locate the transmission fluid dipstick. In most FWD vehicles, you can find it to the right of the oil dipstick. If you're having trouble finding it, check your owner's manual or call a Nissan service center near Hewitt.

Pull the dipstick out and examine the fluid quality. It should be clear with a pink hue. If it smells burnt or appears to be discolored, it's time to schedule a service appointment for a transmission fluid change.

Wipe the fluid off of the dipstick with a clean rag and reinsert it back into the slot. Now remove it again in order to check the fluid level. If the fluid doesn't reach the "Full" marking on the dipstick, it's time to top it up.

Use a funnel to add fluid until it reaches the "Full" line. Add only a little at a time to make sure you don't overfill.
Where is the Transmission?
If you find yourself asking, "Where is the transmission?" on your Nissan vehicle, then you are in luck! The good thing is that it is pretty easy to find. It's usually a bit lower than the engine, just barely underneath it, and mounted to one side or the other, level with the oil pan. If your vehicle is rear-wheel drive, the transmission will be behind the engine, usually under the dashboard area. If you're still unsure or you're too nervous, then schedule an appointment online with our service team today!
How Often Should You Check Your Transmission Fluid?
A good rule of thumb for checking your Nissan Altima transmission fluid is once per month. While you're at it, take the opportunity to check the power steering fluid and engine oil. With these small checks, you can help your car stay in the best shape possible, as well as maintain its fuel efficiency. Be sure to familiarize yourself with your car's routine maintenance schedule, which you'll find outlined in your owner's manual.
Tips for Checking Your Transmission Fluid
As you start checking your Nissan Altima transmission fluid as part of your at-home maintenance, keep the following points in mind:
Depending on your transmission type and other factors, your car will need one of many available transmission fluids. Refer to your owner's manual for the fluid required by your automatic or manual transmission.

One tip-off that your vehicle could need a transmission fluid change is a slight hesitation before shifting gears. If this is happening, check your transmission fluid level. If the fluid level is adequate, then schedule service to be sure it's not an indicator of a more serious issue.

The general recommendation for changing your transmission fluid is every 50,000 to 100,000 miles. However, the exact amount is determined by many factors, including driving habits and the needs of your particular vehicle. Check your user manual, or speak with a trusted Nissan auto servicer in the McGregor area if you're not sure.
Keep Your Car in Top Shape with Car Care from Douglass Nissan of Waco!
For more details on how to check transmission fluid or info on our current service specials, stop by our Service Center near Woodway. Find out how our trusted technicians help Waco drivers drive safely every day, and contact us for car-care tips or to schedule your vehicle's routine maintenance today!
Want to learn more? Be sure to read up on NissanConnect technology or learn why your steering wheel might be shaking with Douglass Nissan of Waco!