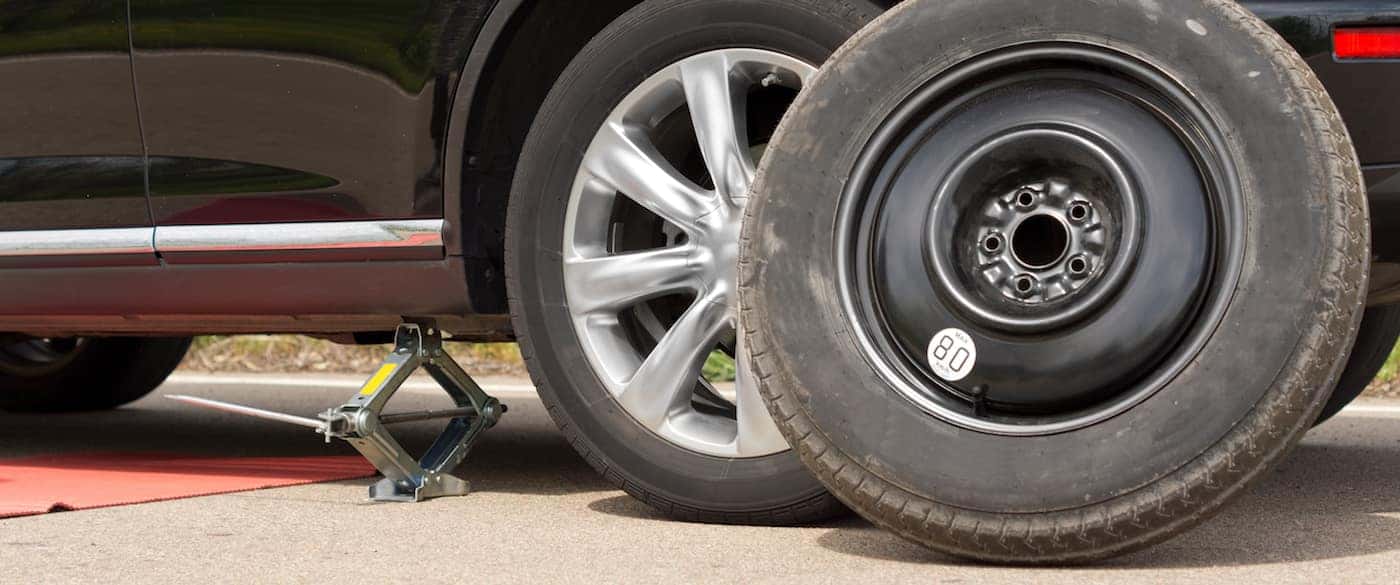 If you're wondering "how long can you drive on a spare tire," you should be sure to limit your driving as much as possible. If you get a flat tire on your Nissan vehicle, always prioritize getting to a repair shop for proper tire maintenance as soon as you can to ensure the safety of you and your car! But ultimately, a more accurate answer can be determined from your spare type. In the following guide, the experts at Douglass Nissan of Waco service center will help you learn how long you can drive on a spare tire!
Donut Tire
While it's commonly known as a donut tire, space-saver spare tires are commonly found in smaller crossovers and compact models. These limited-use spare tires should only be used to get you to our repair shop in Waco, or to safety. Its small size is helpful for storing under or within your car and provides a minimal safety-net for getting you to a service center. Donut tires brake and handle very differently than your normal tires would, so drive slowly and cautiously until you reach your mechanic. How long can you drive on a spare tire? Be sure not to drive over 50 miles with a donut spare.
Full-Size Spare Tire
Your Nissan car, truck, or SUV may come equipped with a full-size spare. In some cases, this spare perfectly matches all four wheels equipped to your vehicle. You can drive on this spare tire as long as you would normally use a new tire. Just be sure to equip a new tire to your spare wheel so you're not in want of one in an emergency.
Collapsible Spare Tire
Also known as a folding spare or an inflatable spare, this is only meant to get you to a repair shop near McGregor. Though it's time-consuming to inflate, it's still an option that could be the difference between being stranded on a roadway and making it to our auto repair shop in Waco. Drive slowly, carefully, and as little as possible on your collapsible spare tire.
Run-Flat Tire
What is a run-flat tire? If you were to run over a nail on the streets of Woodway with a run-flat tire, you won't have to worry nearly as much. That's because a run-flat tire uses a reinforced sidewall design that continues to support your vehicle's weight, even if your tire loses air pressure loss or has no pressure at all. Though more expensive because of this convenience, it's benefits may be worth it to you. Benefits of a run-flat tire include:
Remains inflated for about 50 miles following a puncture
Does not require you to exit vehicle and repair on roadside in potentially poor conditions
Tougher and more durable than most standard tires
Learn More at Waco
Are you in need of tire service in the Hewitt-area? Our team at Douglass Nissan of Waco would be happy to help you get the tires you need at a competitive price. Don't hesitate to contact us, or to schedule service online today. Whether you want to learn about spare tires, or extended warranty coverage, or how to program Nissan Intelligent Key, we're here's to help! We can even help you learn how to fix a dent or scratch and discover how to check tire tread.